Information provided according to Sec. 5 German Telemedia Act (TMG):
BELFOX Torautomatik GmbH
Forsthaus 4
36148 Kalbach
Germany
Contact
Telephone: +49 6655 9695-0
Fax: +49 6655 9695-31
E-mail: info@belfox.de
Represented by:
Managing Directors: Rrezarta Beqiraj
Register entry:
Entry in the Handelsregister.
Registering court: Amtsgericht Fulda
Registration number:: HRB 2906
Associations: MZT, BVT, BAS.T, Warenzeichenverband Edelstahl Rostfrei e.V
VAT:
VAT Id number according to Sec. 27 a German Value Added Tax Act:
DE 811 413 420
Chamber of Trade/Chamber of Commerce:
Responsible chamber: Industrie- und Handelskammer Fulda
Industrie- und Handelskammer (IHK) Fulda, Körperschaft des öffentlichen Rechts (KdöR) vertreten durch
Hauptgeschäftsführer Stefan Schunck
Heinrichstraße 8, 36037 Fulda, Germany
Telefon: +49 661 284-0
Telefax:  +49 661 284-44
E-Mail: info@fulda.ihk.de

Company number: Identification number 6157340
Professional liability insurance/Business liability insurance:
Name of company: SV Sparkassen Versicherung
SV SparkassenVersicherung Holding AG
Löwentorstraße 65
70376 Stuttgart
Head Office location: Stuttgart
Insurance coverage: Germany
Notice according to § 36 Verbraucherstreitbeilegungsgesetz (VSBG):

The European Commission provides a platform for online dispute settlement procedure (OS): https://ec.europa.eu/consumers/odr
Our e-mail address can be found above in the imprint.
We, the BELFOX Torautomatik GmbH, will not participate in a dispute settlement procedure in front of a consumer settlement court according to VSBG, and are not obliged to do so.
Registration number according to the Electrical and Electronic Equipment Act (WEEE Directive):
WEEE-Reg.-Nr. DE40478752
Jurisdiction:
Jurisdiction for both parties is Fulda
Amtsgericht Fulda
Königstraße 38
36037 Fulda, Germany

Professional Association

:
Bundesverband Antriebs- und Steuerungstechnik. Tore e. V.
Neumarktstraße 2 b
58095 Hagen, Germany
Tel.: +49 2331 2008-0
Fax: +49 2331 2008-40
MZT, BVT, Warenzeichenverband Edelstahl Rostfrei e.V
Design / realisation / Support of the Website:
Sislak Design Werbeagentur GmbH
General Manager: Georg Sislak
Uferweg 40-42
63571 Gelnhausen
Germany
Telephone: +49 6051 61930-0
Telefax: +49 6051 61930-10
E-mail: info@sislakdesign.de
Website: www.sislakdesign.de
Source references for used pictures and graphics:
Home Slide 1 © iStockphoto by in4mal
Home Teaser "Zubehör" © iStockphoto by narvikk
Product photographs © Philipp Allenbrand
Portraits © Philipp Allenbrand
Object photographs  © Konrad Merz
News picture "Spatenstich" © Konrad Merz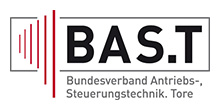 We are founding member of the Bundesverband Steuerungs- und Antriebstechnik (BAS.T).